Is there any doubt watching the replays that Brad Haddin knew that it was his glove rather than the ball that removed the bails from behind Neil Broom? Certainly not in the mind of Daniel Vettori!
"I think you saw from Haddin's reaction that he knew something was wrong so he probably should have made more noise about it," Vettori said.
And he's 100% right. Haddin pulls back from the wickets with his gloves after the bails have toppled as if to demonstrate he was no where near it and then is strangely muted and late in his appeal. There's a clear moment of decision: do I appeal or not? He does. And that makes him a cheat.
So when Ponting says, "I think he'd better make sure he's 100 percent right before he comes out and makes those sort of statements. It's a bit much, he's basically claiming (Haddin's) a cheat, isn't he? That's a bit strong unless they're 100 percent certain." Yup we're 100% on this one Ricky.
He's done it before. In India he threw one of his wicket keeping gloves to stop the ball. Its also against the rules. That time he got caught and the team was fned 5 runs.
Remember the last Aussie wicket keeping great? Adam Gilchrist was his name. And he'd walk every time he got a nick. Not this guy. The only thing that will stop this becoming as notorious as the underarm incident? We won. A privilege to be the team that inflicted the 4th straight loss at home on this Aussie team. The record is 5...4 to play - can we keep the dominance going?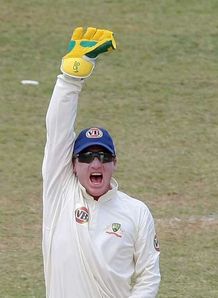 Q. Who is Australia's newest cheating superstar?
A. OOH, I know, I know, pick me!